FILM HOME PAGE
Films between 1919 & 1939
Films between 1940 & 1949
Films between 1950 & 1959
Films between 1960 & 1969
Films between 1970 & 1979
Films between 1980 & 1984
Films between 1985 & 1989
Films in 1990
Films in 1991
Films in 1992
Films in 1993
Films in 1994
Films in 1995
Films in 1996
Films in 1997
Films in 1998
Films in 1999
Films in 2000
Films in 2001
IMPORTANT & NOTEWORTHY FILMS
FEATURING ASIAN PACIFIC AMERICANS

Films in 1997 (Part 1)
Click HERE for Part 2 and HERE for Part 3



VOLCANO

(1997)
Directed by Mick Jackson
Cast: Tommy Lee Jones, Anne Heche, Gaby Hoffmann, Don Cheadle, Jacquline Kim, Keith David, John Corbett, Michael Rispoli, John Carroll Lynch, Marcello Thedford, Laurie Lathem, Bert Kramer, Bo Eason, James MacDonald, Dayton Callie, Michael Cutt, Kevin Bourland, Valente Rodriguez, Sheila Howard, Gerry Black, Susie Essman, Lou Myers, Gareth Williams, Juan Gabriel Reynoso, Angela Albarez, Richard Penn
In a rare Hollywood portrayal of Asian American audacity and heroism, Kim plays the supporting role of a doctor who--against the insistence of her selfish husband--risks her life to help the victims of a volcanic eruption in the middle of downtown Los Angeles. In addition to leveling LA, this "Volcano" also devastates a few Asian stereotypes within the confines of a major American picture. Our next hope is to show these same characteristics in an Asian / Asian Pacific American male! Since Bruce Lee died, can anyone think of a major Asian Pacific American male star! Jackie Chan is starting to become a star, Jason Scott Lee, Russell Wong, etc. are getting there. Actors such as Pat Morita, Soon Tek Oh, Mako, Jack Ong, James Hong, Clyde Kasatu, etc. are a little old to be the "next" thing!?! Any thoughts, anybody!?! [Guy Aoki]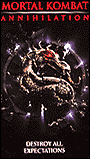 MORTAL KOMBAT: ANNIHILATION

(1997)
Directed by John R. Leonetti
Cast: Robin Shou, Talisa Soto, Irina Pantaeva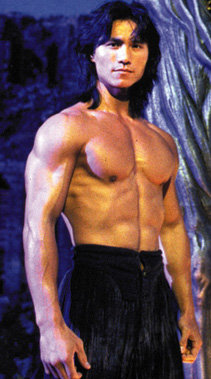 The only thing really notable about this sequel to "Mortal Kombat" (see above) is that--due to the attrition of the original's big-name cast members--Robin Shou gets top billing. Oh, yes, and his romance with Kitana (Soto) is beefed up from the original. This movie also adds another Asian face by casting the Siberian model Pantaeva as the "femme fatale" that switches sides and joins the heroes. But the story keeps changing the goal post--keeps altering the stakes of the battle--so often that we're not really sure who or what to root for. Not as good as the original.

THE PROPHESY II

(1997)
Directed by Greg Spence
Cast: Christopher Walken, Russell Wong, Jennifer Beals, Brittany Murphy, Eric Roberts, Glenn Danzig, Steve Hytner, Bruce Abbott, William Prael, Rene Victor, Elizabeth Dennehy, John Hertzler, Nicki Micheaux, Tom Towles, Danny Strong, David Lea
Lo and Behold - Kicked out from his asylum in Hell, Archangel Gabriel (Christopher Walkins) begins his campaign against humanity anew, this time working against time to prevent the joining of angelic power to the free will of mankind within a mother's womb. I guess the important thing is that Russell is always working.

(1997)
Directed by Mira Nair


Cast: Naveen Andrews, Sarita Choudhury, Ramon Tikaram, Rekha, Indira Varma, Pearl Padamsee, Arundhati Rao, Khalid Tyabji, Harish Patel, Ranjit Chowdhry, Siddarth Anand Kumar, Avijit Dutt, Surabhi Bhansali, Garima Dhup, Kusum Haidar, Achla Sachdev, Arjun Sajnani, Anjum Rajabali, Debi Basu, Rahul Vohra, Manize Boga, Prabeen Singh, Sinia Jain, Urvashi Nair, Bhanumathi Rao, Vasudeo Bhatt, Moneeka Misra Tanvir, Zoya Akhtar, Purnima Raju, Shyamoli Varma, Deepti Datt, Piu Dutt, Maya Krishna Rao, Nandita Mehrota, Mina Sareen, Dinaz Stafford, Daphnée Breytenbach, Celesteann Cruz, Nizami Chattarpur, Yasmine Stafford, Himanshu Malik, Shubha Mudgal, Sunil Chabra
From Leonard Maltin's Movie & Video Guide - Frankly erotic, spirited feminist saga of sex and sexual politics in 16th-century feudal India, telling the story of Maya (Varma), an independent-minded servant who seduces a young king. He becomes obsessed with her, but weds a princess whom he does not love. A pointed portrait of a woman who is unwilling to accept a woman's ``destiny'' of being her father's property one day and her husband's property the next. Rated for video as NC-17, and as R (113m. ). Copyright© Leonard Maltin, 1998, used by arrangement with Signet, a division of Penguin Putnam, Inc.

ONE NIGHT STAND

(1997)
Directed by Mike Figgis
Cast: Wesley Snipes, Nastassja Kinski, Kyle MacLachlan, Ming-Na Wen, Robert Downey Jr., Marcus Paulk, Natalie Trott, John Calley, Glenn Plummer, John Ratzenberger, Margaret Makinen, Edita Brychta, Johanna Torell, Julian Sands, Ione Skye, Michela Zanchi, Saffron Burrows, Robie Yamamoto, Shetel Bhagat, Jesus Yinh, Emily Hseih, Sabrina Van Tassel, Cleveland Mitchell, David Acosta, Aixa Maldonado, Nadira Hall
This highly contrived tale of adultery is ploddingly plotted and ultimately unrewarding. With Robert Downey Jr. in the supporting role of a gay catalyst, this story of sexual attraction between two married couples appears to be veering towards some kind of pan-sexual union--but ultimately cops out.
Director Figgis ("Leaving Las Vegas") gets screenplay credit, too, but only because Joe Eszterhas ("Basic Instinct") took his name off the project.
Still, this otherwise disappointing film features one remarkable quality: no big deal is made about the interracial marriage between the Snipes and Wen characters. It's just taken as a given. Wen shocks in her uninhibited sex scenes--exploding her nice "Joy Luck Club" image. Word on the street is that African American star Snipes didn't want his character to be seen leaving a black wife for Nastassja Kinski, so he was given an Asian American wife instead. (Maybe we should call using Asians to bridge divisions between blacks and whites the "Lance Ito solution.") Although the film was a commercial and critical flop in this country, it found some admirers in Europe, and Snipes won the Best Actor award at the Venice Film Festival. Go figure.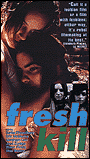 FRESH KILL

(1997)
Directed by Shu Lea Cheang
Cast: Sarita Choudhury, Erin McMurtry, Abraham Lim
Video artist Cheang turns feature-film director with this surreal story of an interracial lesbian couple (Choudhury and McMurtry) trying to raise a daughter against a bizarre backdrop of corporate monopolization, ecological calamity, and cover-up. The photography (by Jane Castle) and set design stun the eye. Filipina American poet Jessica Hagedorn, who has a small role, wrote the stream-of-consciousness screenplay. But the monologue-heavy individual scenes overpower the coherence of the over-all story. The film ultimately fails to engage. Still, one can appreciate the movie's portrayal of multiculturalism in New York as a no-big-deal fact of life.
MURDER IN MIND

(1997)
Directed by Andrew Morahan
Cast: Nigel Hawthorne, Mary-Louise Parker, Jimmy Smits, Jason Scott Lee, Gailard Sartain, Jon Cedar, Ingo Neuhaus, Art Metrano, Rob LaBelle, Mitch Ward, Anne De Salvo, Jodi Long, Eric Cadora, Nicholas Cascone, Elizabeth Norment, James Handy, Roman Wyden, Aaron Lustig, James Maitland, John Marrott, Glenn Schlechter, Tom Bales, Richard McCune, Ken Christmas, Ron Ulstad, Debra Heesch, Paul Chin

Confused mish-mash of a film finds a woman undergoing hypnosis to determine who murdered her husband, a crime for which she is the chief suspect. The plot's a bit confusing and there were evident holes but Mary-Louise's protrayal of her character bails'em out. Decent enough to earn my 7 rating. By the way, the plot is a confused mish-mash of a story that finds a woman undergoing hypnosis to determine who murdered her husband, a crime for which she is the chief suspect. Jason Scott Lee is part of this ensemble casting that allows him to undertake a different kind of role than what he is normally cast in.
site design by Asian American Artistry
for any questions regarding the content, please contact Asian American Artistry
Copyright © 1996-2003 - Asian American Artistry - All Rights Reserved.